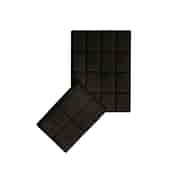 Fragrance: Lavender
Wax: natural wax
Dimensions: 16x9x1cm
Burning hours: 24 hours 
Insect repellent scents for outdoor candles. Made of natural wax, including 25% perfume for a real scent boost. Transform your outdoor candle into a mosquito, flies and wasp repellent device whenever you want! Looking like chocolate bars, break off one or two pieces (depending on the size of your candle) and place them next to the wick when lighting your candle. The wax will melt and mingle into the meltpool of your candle and give you the insect repellent boost you need. Keep adding pieces into the meltpool for continued use or just stop using and the scent will wear off.