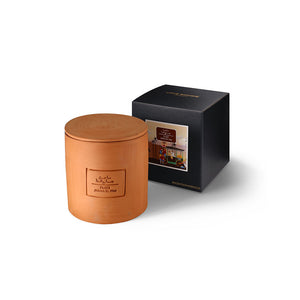 A stroll through the heart of the Medina, the streets buzzing with passers-by: an exciting atmosphere that awakens all of our senses. The lively souks
permeate the alleys with a lingering fragrance of tanned leather and the captivating sweet scent of spices.
An addictive smell of the souks permeates the dead ends with a trail of tanned leather mixed with a sweet scent of spices.
 5 wicks - 100% cotton wick
Size

 

L

Fragrance

 

Place des épices

Burn time

 

180 hours

Diameter

 

15 cm