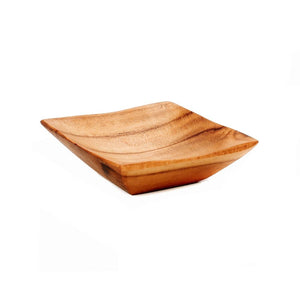 This small square teak bowl is a handy all-rounder for multifunctional use in the kitchen or dining room. Also useful for storing small jewelry.
Length: 2.3"
Width: 2.3"
Height: 0.8" 
Teak is a tropical hardwood tree found in India and South East Asia, which we source from the overgrow on rainforest floors. Teak has a high protective oil content, making it capable of lasting a lifetime. It can even resist extreme temperatures and humidity. It's a lovely natural material that can be used both indoors and outdoors.
Care instructions: You can use a cloth with warm water and mild soap to clean your teak furniture. Be sure to wipe off all the soap residue after cleaning and let the wood dry properly. Don't use a sponge because this can scratch the wood. If you want a longer lasting maintenance and protect your teak wood furniture, you can use teak oil to waterproof it and prevent it from spots. If you polish your teak root wood, you get a beautiful golden color. Exposed to the elements, the teak root wood color will fade to a silver-grey shade.